The 4 in 1 Babywearing Jacket is the perfect jacket for pregnancy, postpartum and beyond. You can wear this for your entire pregnancy, then utilize it for babywearing (back and front), and use it as a jacket just for yourself. So whether you have your little one with you or not, you will be warm, comfortable, and dry in this jacket. 
Mountain Marsupial babywearing jackets are made with a high quality technical fabric, DINTEX.  This material is WINDPROOF, WATERPROOF, breathable and suprisingly lightweight!  With a drawstring hem and deep pockets, you and your little one will stay cozy and warm. With the long pulls, you will be able to put this jacket on you and baby yourself whether it's a front or back carry. Upgraded for 2020, Amy has added a detachable hood and large inside pockets (perfect for a diaper and wipes), and a zipper on the outside pockets. Please note, we are have marked the older style in pink and blue down to $150 now since they don't have these new features. 
This is all you need to brave the harshest days of wind, rain or snow.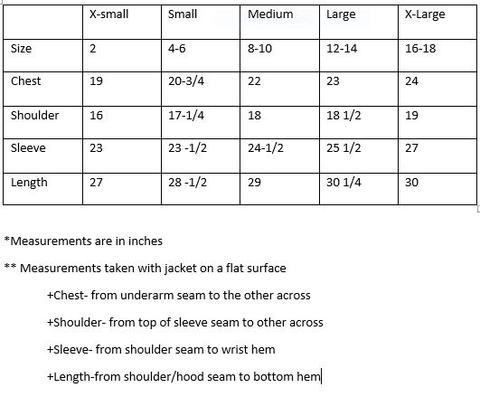 Mountain Marsupial products are made in Colorado. 
So go ahead, Mama, BabyWear Yourself Out!
Shipping
This item Ships to
Delivery
Estimated between and
Will usually ship within 1 business day.
Your items are packed with care and shipped from Theinsville, WI 6 days a week.
We know that buying clothing online can be a bit of a gamble. That's why we make returns as easy as we can. You have 30 days to return (newborns make it hard to leave the house some days) any unused garments. Please see details on our return and exchange policy here.
A few reasons to support Close to the Heart:
| | | |
| --- | --- | --- |
| |     | Woman Owned. When you buy from us, you're supporting a small business owned and run by women entrepreneurs. Read more About Us. |
| | | We are here to support YOU. We want motherhood to be a wonderful experience for anyone who chooses it. We can be contacted by phone or text at (262) 618-2736, and our Facebook group offers a friendly community! |
| | | Help is Here. Whether you need sizing help or suggestions for support groups, we've got your back. Feel free to Chat with Us, even if it's not about a product we sell. |
| | | Fostering Strong Women. We want you to realize: You are strong. You are capable. You are enough. |
| | | Vetted Products. Our products are held to high standards and we source as many items from local, small businesses as possible. |