As the weather is getting more and more beautiful, warm and inviting, I think now is a great time to chat about sports bras. If you are ready to head out hiking, do some yoga on the lawn (cause the kids have taken over the living room), or start running, a sports bra will be your BFF. 
When we chat about sports bras, it's important to consider what activity you are doing and how much impact it creates on the body. Sports bras are typically rated from low to high impact.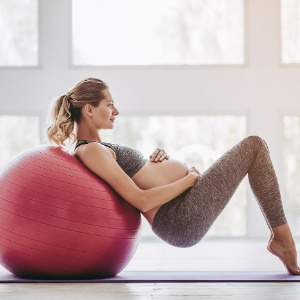 Low Impact
Low impact typically means that your feet aren't pounding the ground. A few examples are yoga, Pilates, or strength training. Low impact bras will typically have less padding and less support. So this style will be stellar for any activity that has less movement and low impact. We carry two styles that are great for low impact activities: Love & Fit Strappy Back Nursing Bra and Bravado Rhythm Nursing Bra.
Medium Impact
Medium impact bras will be perfect for those slightly more intense activities. So if you are headed out to go hiking, bike riding, spinning, Zumba, etc, this is going to be a great bra for you. This will provide a bit more support and is usually more padded than the low impact. The Love & Fit Selene Zip Nursing Sports Bra is a great choice for medium-impact activities. 
High Impact
Strap in ladies, cause those boulders aren't moving. High impact bras are designed to hold you close and tight while doing strenuous exercise. So if you are running, doing a CrossFit or boot camp class, plyometrics, etc, grab a high impact bra. Especially if you are on the bustier side. Choose either the Love & Fit Athena Nursing Sports Bra or the Love & Fit All In One Nursing & Hands-Free Pumping Sports Bra.
Pumping
Yes, you can work out and pump! Sometimes you need to pump in the car as you are headed to the gym or need to pump while you are out on a bike ride. You will want the
Love & Fit All In One Nursing & Hands-Free Pumping Sports Bra
. This is a high impact bra so it will fit a bit tighter. This is also a bra that you can use with any flanges so don't worry about if your pump will work with it. 
General Things to Consider
Look for bras that will allow you to adjust the band and the straps when buying. This will allow you to get a better fit, especially for bigger cup sizes. Since fit directly impacts support, and support affects your posture and appearance, you may want to come in for a professional fitting to make sure you purchase a sports bra that minimizes strain on your bust. Unable to come in? Send us a message on Facebook or Instagram. We are happy to help you find the best bra for you.